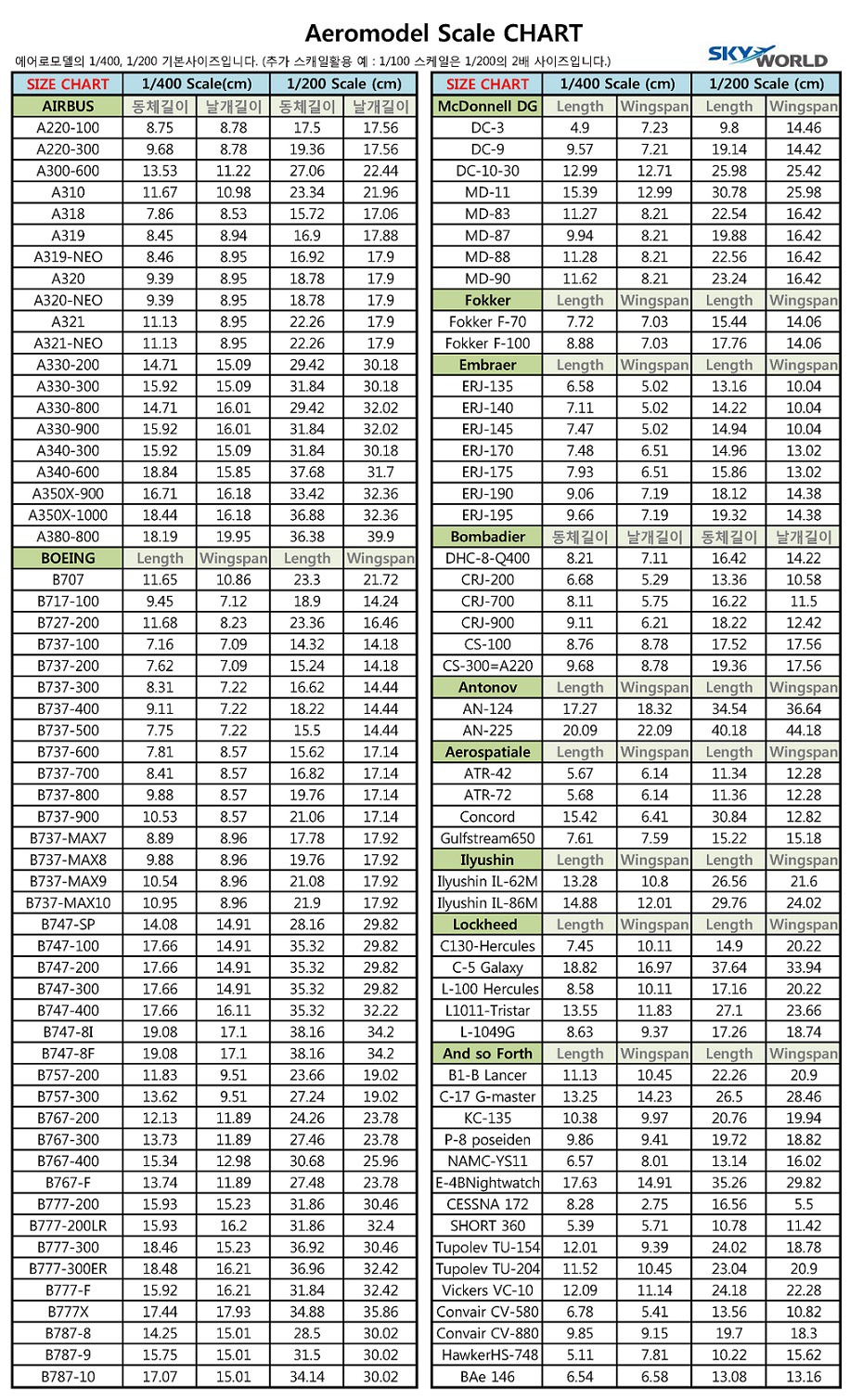 MIG-29A Fulcrum 553, North Korea Air Force, 2015[1/72-Hobby Master]
길이 24cm+너비 15cm+높이 6.5cm 메탈다이케스팅+스텐드포함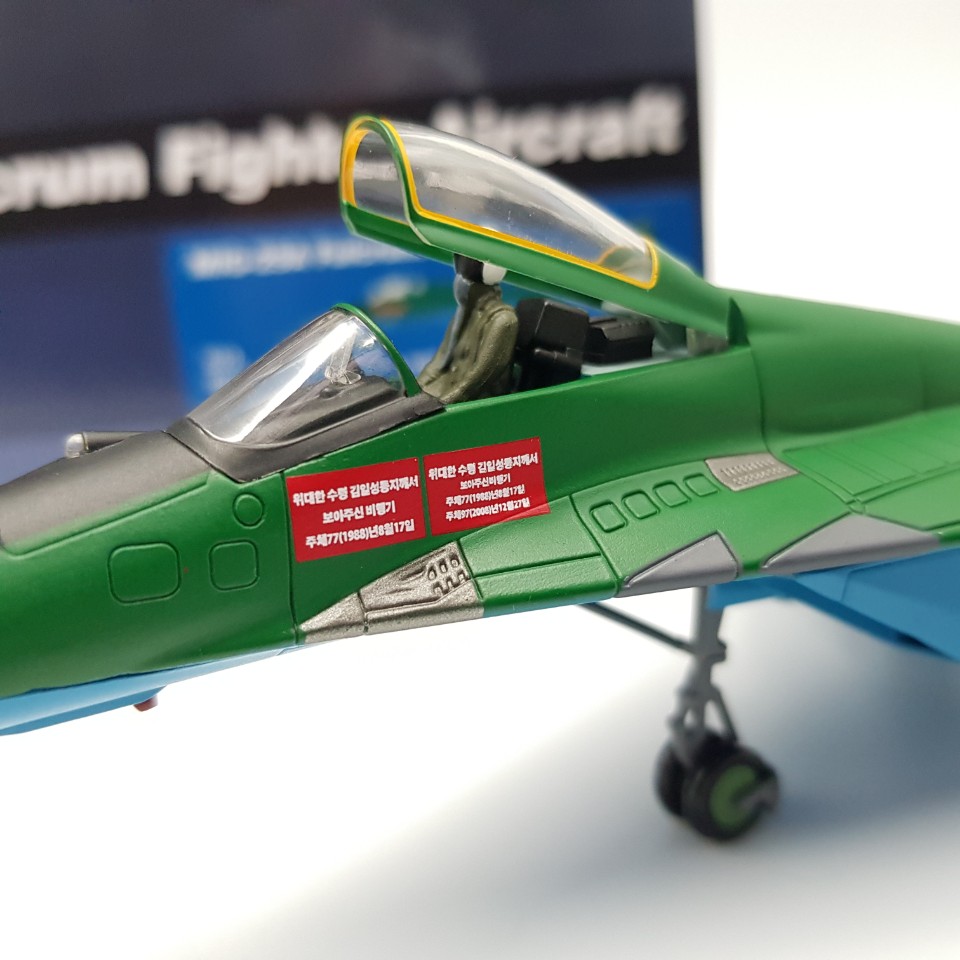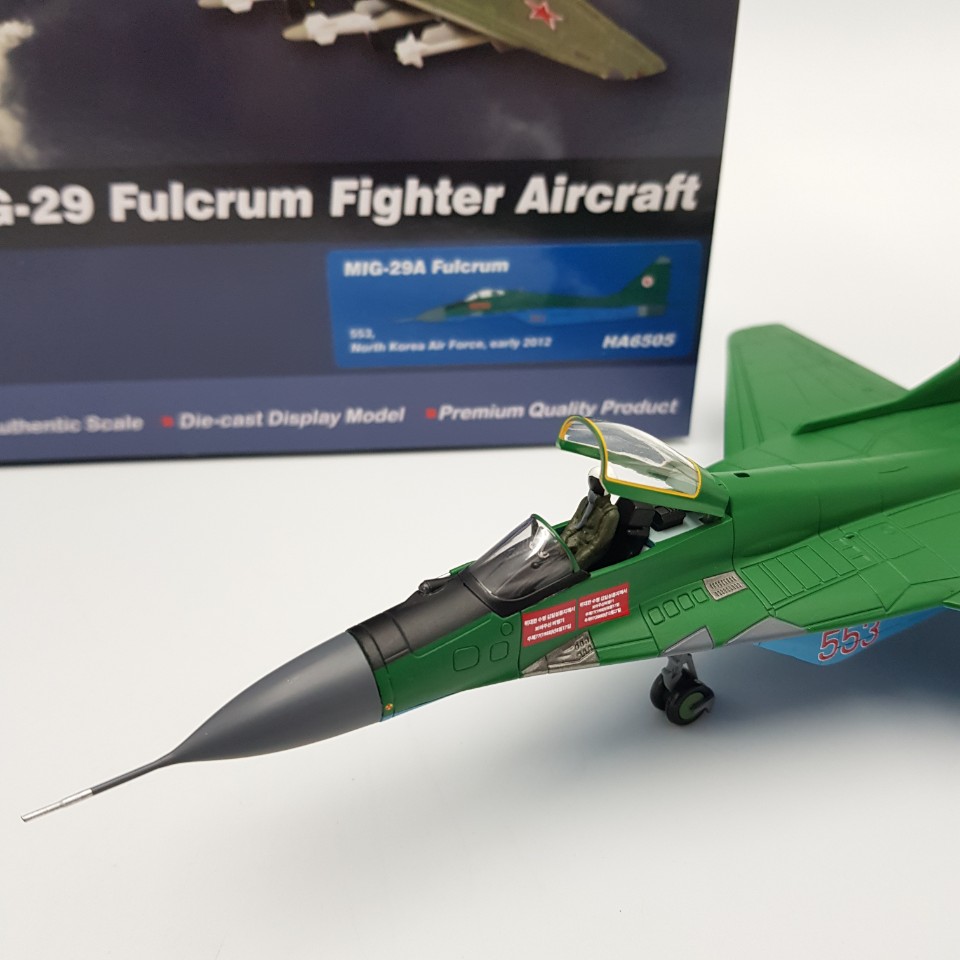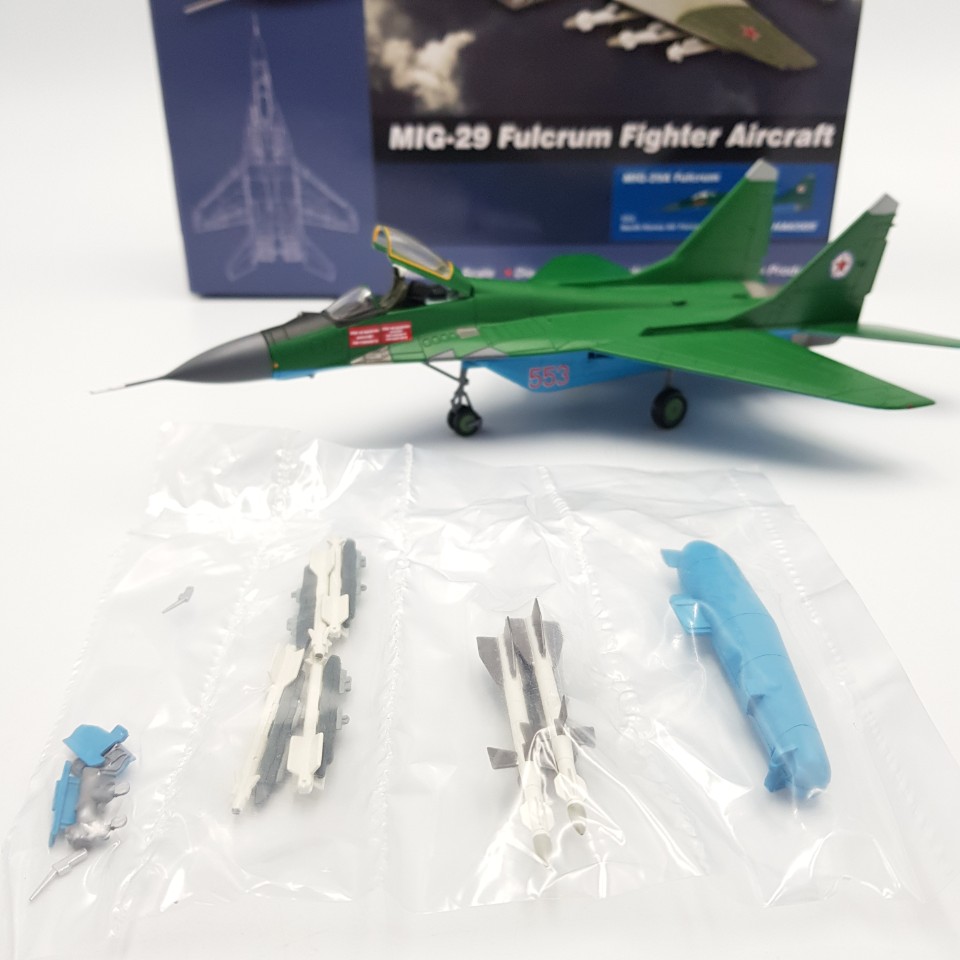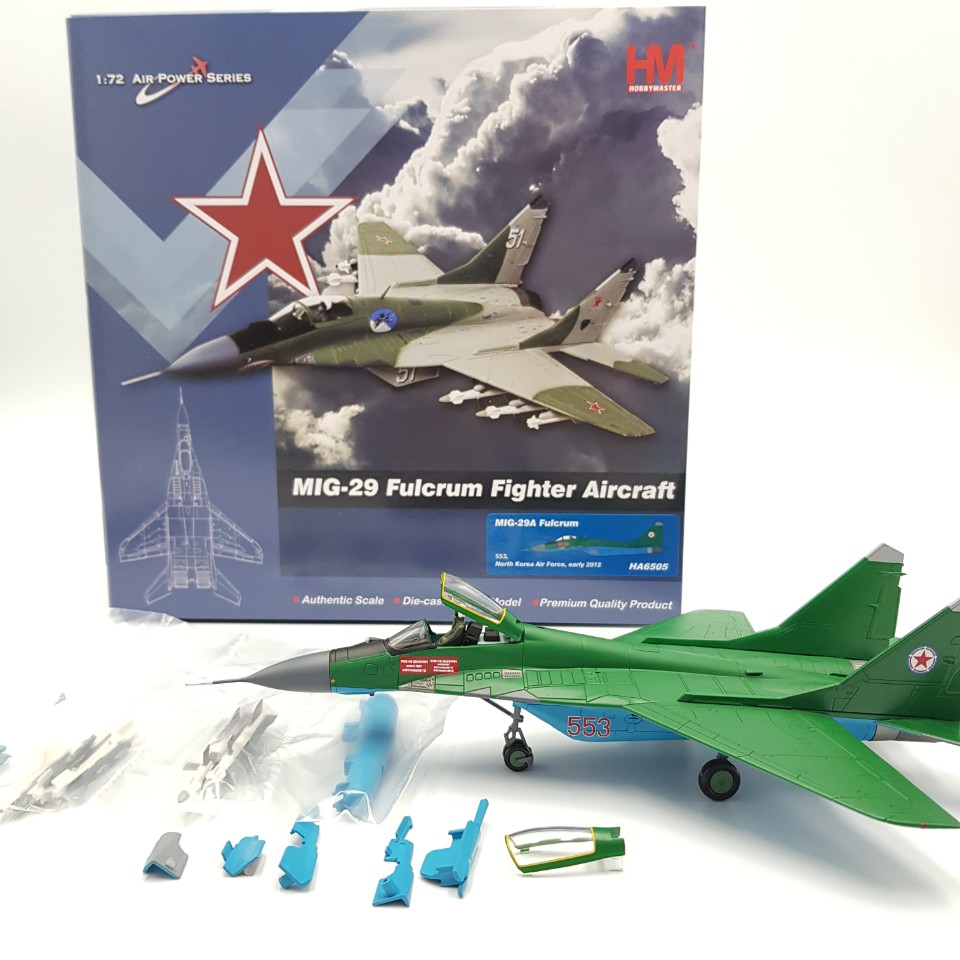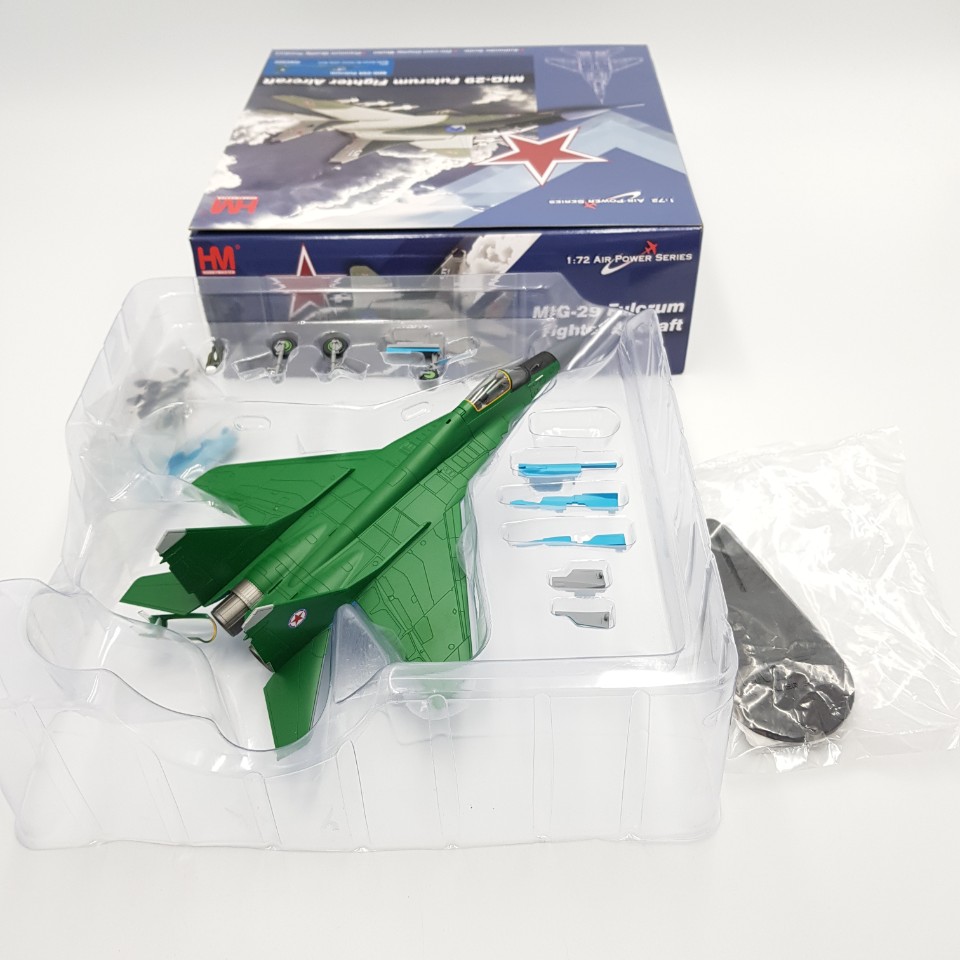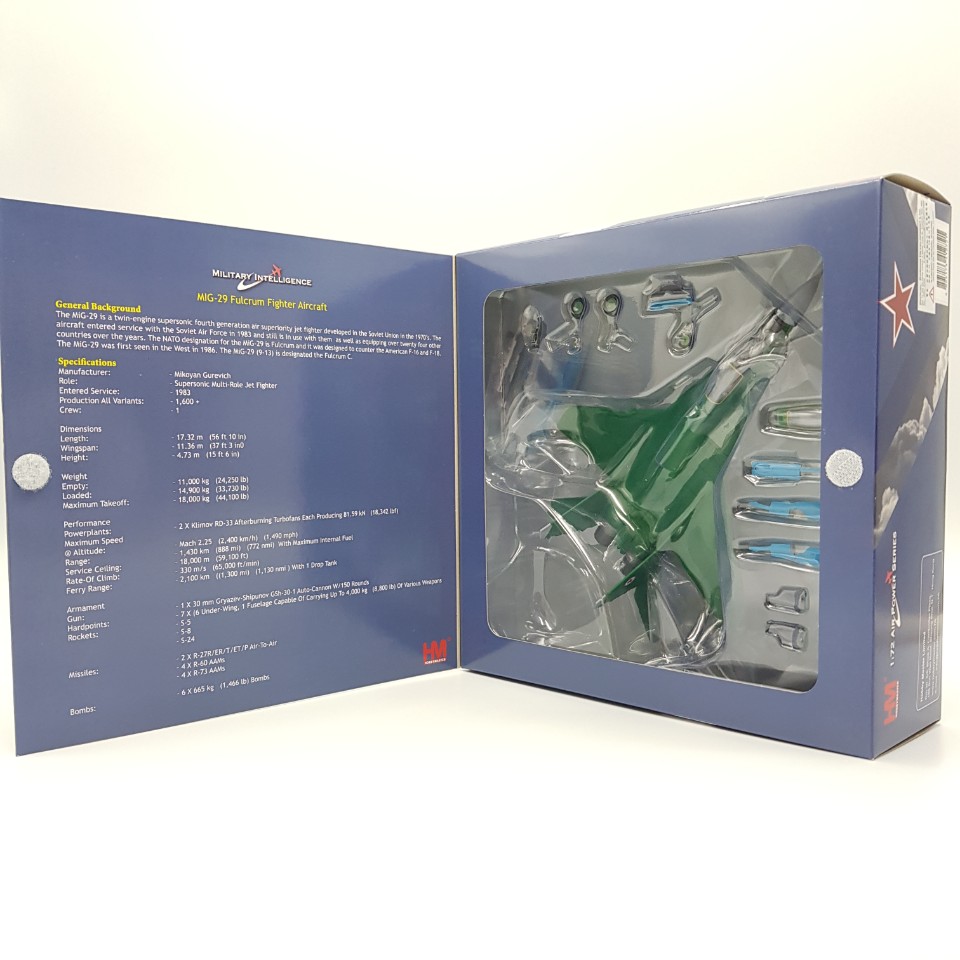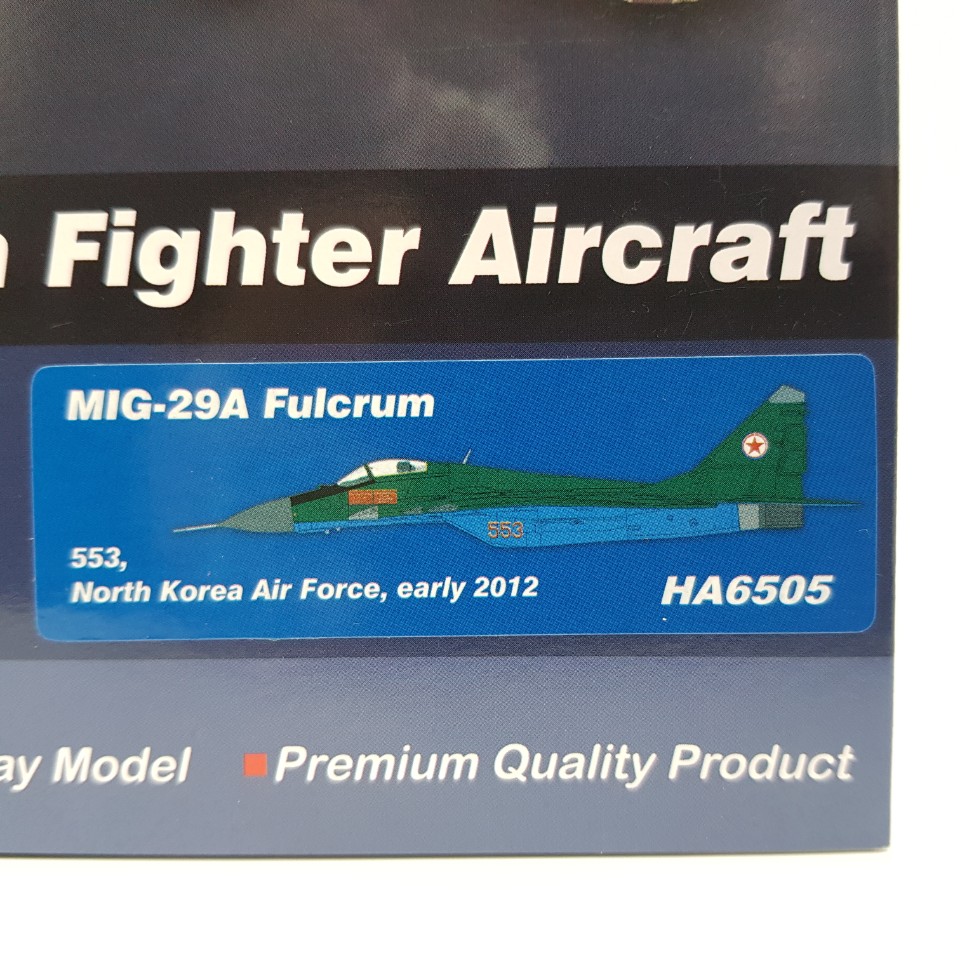 The MiG-29 is a twin-engine supersonic fourth generation air superiority jet fighter developed in the Soviet /*C*Union*C*/ in the 1970's. The aircraft entered service with the Soviet Air Force in 1983 and
still is in use with them as well as equipping over twenty four other countries over the years. The NATO designation for the MiG-29 is Fulcrum /*C*and*C*/ it was designed to counter the American F-16
and F-18. The MiG-29 was first seen in the West in 1986.The MiG-29 (9-13) is designated the Fulcrum C.
MiG-29A Fulcrum 553 as it was seen during Kim Jong-Un's visit in 2012 to the MiG-29 unit of the 57th Wing, Oncheon AB, near Pyongyang in 2012.The red banners on the fuselage roughly
translated "Kim Il-Sung inspected this aircraft in August 1988, Kim Jong-Il inspected this aircraft in August 1998 (with his father) /*C*and*C*/ again in February 2008.Some MiG-29s assembled in North
Korea were assigned numbers referring to special events such as 415 for Kim Il-Sung's birthday (April 15, 1912) 820 for August 29, 1948 when the KPAAF was formed.
General Specifications Mig-29
Manufacturer – Mikoyan Gurevich
Role – Supersonic Multi-Role Jet Fighter
Entered Service-1983
Production All Variants-1,600 +
Crew-1
Dimensions
Length-17.32 m (56 ft 10 in)
Wingspan – 11.36 m (37 ft 3 in0)
Height – 4.73 m (15 ft 6 in)
Weight
Empty-11,000 kg (24,250 lb)
Loaded-14,900 kg (33,730 lb)
Maximum Takeoff-18,000 kg (44,100 lb)
Performance
Powerplants – 2 X Klimov RD-33 Afterburning Turbofans Each Producing 81.59 kN (18,342 lbf)
Maximum Speed
@ Altitude – Mach 2.25 (2,400 km/h) (1,490 mph)
Range – 1,430 km (888 mi) (772 nmi) With Maximum Internal Fuel
Service Ceiling-18,000 m (59,100 ft)
Rate-Of Climb-330 m/s (65,000 ft/min)
Ferry Range – 2,100 km ((1,300 mi) (1,130 nmi) With 1 /*C*Drop*C*/ Tank
Armament
Gun – 1 X 30 mm Gryazev-Shipunov GSh-30-1 Auto-Cannon W/150 Rounds
Hardpoints – 7 X (6 Under-Wing, 1 Fuselage Capable Of Carrying Up To 4,000 kg (8,800 lb) Of
Various Weapons
Rockets
S-5
S-8
S-24
Missiles
2 X R-27R/ER/T/ET/P Air-To-Air
4 X R-60 AAMs
4 X R-73 AAMs
Bombs
6 X 665 kg (1,466 lb) Bombs
1/72 Air Power Series
전투기사이즈 참조
http://datafactory.tistory.com/588